TOKYO BRAND IMAGE MOVIE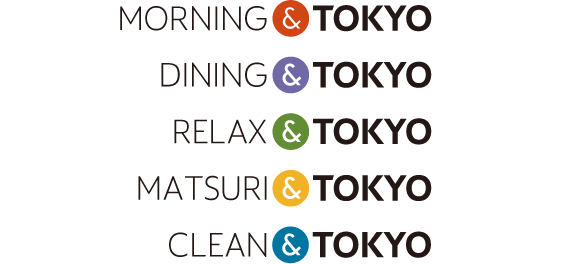 The "&" in our logo expresses Tokyo's many ways of making connections. Our intention behind this logo is to express how Tokyo creates new kinds of enjoyment by forming new values and connections. Any word that describes an experience or attraction of Tokyo can be inserted in front of the "&" to expand the meaning. This logo is a platform for communicating Tokyo's diverse attractions to the world. All around Tokyo, visitors will be greeted with various expressions of the & TOKYO logo.
LOGO GENERATOR
Click to create your own "&Tokyo" logo!
Tradition and innovation. Japanese culture and cultures from around the world. Tokyo is always making connections to new things, experiences and people, creating its own unique style and ways of enjoyment.We have summarized the unique experience of Tokyo into five key values.Emotions transcend the imagination. Experiences never had before come alive.When visitors from around the world connect to Tokyo, something new begins.

From traditional arts to advanced technology, you will discover aspects of culture that are unique to Tokyo. While maintaining strong connection to history, Tokyo is moving fast toward the future.

Sophistication comes alive in all you see and touch in Tokyo. Sensitivity and superb craftsmanship bring about the creation of many original technologies and products.

By just walking around Tokyo's neighborhoods, you will feel excitement and energy. New architecture is always arising and the people and economy are dynamic and constantly evolving.

In subtle kindnesses passed from person to person lives the spirit of omotenashi (hospitality). This quintessential Japanese trait begins by thinking from the other person's perspective. Kindness gives birth to joy.

I would like to stay here forever. Many people have this feeling after experiencing Tokyo's safety, clockwork precision and convenience. The city is supported by a networked transit system and the comforts of 24/7 services.
These five core values exist not in a splendid way but are vividly depicted by the daily lives of Tokyo. By having Tokyo's residents and proprietors continuously enhance the five unique values of Tokyo in daily life, foreign visitors could feel the constantly evolving lifestyle of Tokyo along with the city's unchanged traditions.
Brand concept