During Halloween, the streets of Tokyo are filled with people wearing costumes. Halloween has become more popular than ever in recent years, and many tourists come from overseas to see Tokyo's unique version of Halloween. The HALLOWEEN & TOKYO campaign is just one of the many efforts to turn Tokyo into the world's #1 tourism city, by creating a "Tokyo" brand that appeals to both foreign and domestic tourists.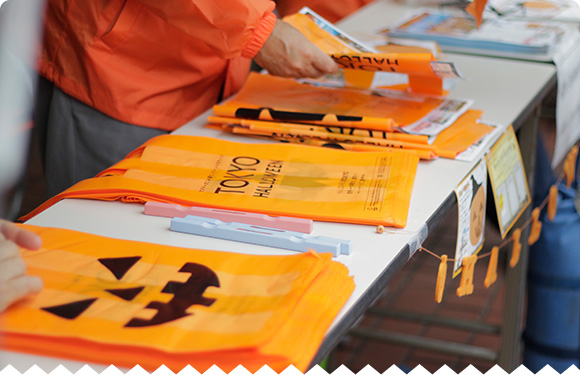 One of the campaign activities was handing out jack-o'-lantern garbage bags. The bags were handed out on the streets in Shibuya and Roppongi and were available at Halloween events throughout the city. With five different designs available, there was something for everyone, from children to adults.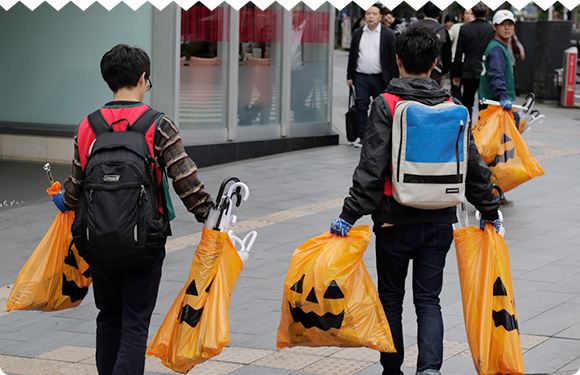 On October 29 and 30 (Sat./Sun.), we cleaned up litter in Shibuya and Roppongi, two areas that are particularly busy during Halloween. Green Bird, a volunteer non-profit group, teamed up with Japan Tobacco Inc. for their own early-morning cleanup campaign, called "Creating Love for Our City through Litter Cleanup." Among the volunteers were local people holding jack-o'-lantern garbage bags.
On October 28 and 29 (Fri./Sat.), an "Eco-Station" was set up in Shibuya, with cooperation from Shibuya Ward. Its purpose was to educate people on separating and disposing of garbage.
Thanks to the cooperation of a wide variety of people, our efforts were a success. We helped to create a clean environment in Tokyo that should continue even after Halloween is over.
The HALLOWEEN & TOKYO campaign was also held in 2015.
It's a great opportunity teach people about creating a clean and comfortable Tokyo.